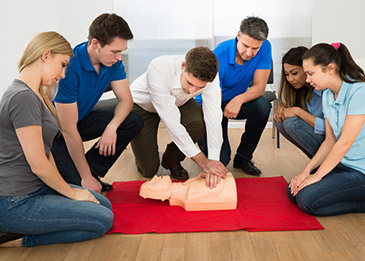 This course covers basic life support skills and includes skills for adults, children, and infants as well as healthcare variations on infant CPR. The course includes safety, precautions, initial assessment, recovery position, CPR, compression-only CPR, CPR handover and choking. This course complies with the latest 2015 ERC and UK Resuscitation Council Guidelines and is aimed at Healthcare Professionals with a duty to respond.
This version is for learners who have already completed BLS courses in the past and just need refreshing their skills annually. If you require our full BLS for healthcare professionals course, we have this with or without AED.
ProTrainings Basic Life Support courses have been designed to meet all the required learning outcomes and are aligned to the Skills for Health UK Core Skills Training Framework or UK-CSTF.  This includes both level 2 adult and paediatric patient care.  The course is also Skills for Care Endorsed and follows the requirements set out in the Resuscitation Council (UK) guidelines for adult and Paediatric cardiopulmonary resuscitation (CPR) basic life support (BLS).
We also have a national network of instructors who can come to your workplace to deliver the training and to work within your time schedules.